With the recent release of Grand Theft Auto 5, there are tons of cools things to cover in the game. But, we all know we love destruction and shooting things up, so let's check out the top 10 weapons in GTA V.
10. Melee – Golf Club
The golf club comes in at #1 in the melee category. With its high damage, you'll be knocking heads. Just think of your enemy as the golf ball and swing away!
9. Handguns – AP Pistol
This pistol gives you fully automatic fire for the maximum amount of damage. You'll have no problem taking out enemies with this because it is built to pierce armor as well.
8. Submachine Guns – Micro SMG
With its high portability and high fire rate, you can easily do some close quarters damage with this bad boy. It's perfect for robbing stores and firing out of your cars.
7. Assault Rifles – Carbine Rifle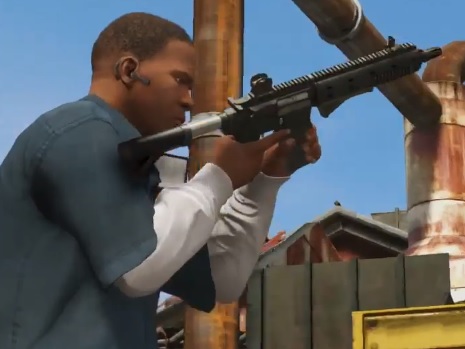 This rifle is the most accurate of the bunch and packs a mean punch. It is a perfect cross between a long range rifle and a close quarters rifle. Bonus points for the sleek design!
6. Light Machine Guns – Combat MG
This gun is an absolute beast! It out beats its younger standard MG brother by far. You'll be slinging lead quick down range and you also get a bunch of ammo in each belt for maximum carnage!
5. Shotguns – Sawed-Off Shotgun
This gun will blow someone to smithereens! It is almost maxed out in damage and with its sawed off barrel it is perfect for close quarters battle.
4. Sniper Rifles – Heavy Sniper
This is a weapon of monstrous proportions! This gun fires at super long ranges and is almost maxed out when it comes to damage. Just find you a little spot on the roof of a building and start shooting anything you want, including vehicles, and this monster will take them out!
3. Heavy – Minigun
This one is chosen off of sheer cool factor, what a weapon! This thing will fire super fast with its maxed out fire rate and is equivalent if not more in firepower capability than an RPG.
2. Throwables – Sticky Bomb
These will stick onto anything you throw them at which is quite the advantage over regular frag grendades. Another cool thing about it is that you can detonate it on your own so it is easier to ambush enemies and vehicles with it.
1.  Best Overall Weapon – Minigun
I believe the best overall weapon in GTA V is the Minigun because it has the best of both worlds when it comes to damage and fire rate. Plus it looks so fun to use!
Thanks for reading this list of the top 10 weapons in GTA V!